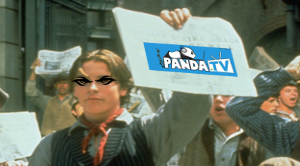 Team Secret Topples Oppressive Twitch Monopoly
— April 30, 2016
Team Secret has directly challenged the oppressive monopoly of Twitch.tv by announcing an alliance with new streaming platform Panda.tv. The video site will be the latest competition in a line of prospective successors to Twitch, such as YouTube Gaming, Azubu, Hitbox, MLG.tv, OWN3D.tv, Ustream, Gaming Live, Dailymotion Games, Steam Broadcasting, Veetle, and network television.
"I was tired of all the rude Twitch memes that whiny bitches would leave in my chat," said double agent Artour "Arteezy" Babaev. "Thankfully, Panda.tv allows me to block the haters with their #GreatFirewall."
"Thanks to Panda.tv, we can hide our illicit gains by giving them to Cyborgmatt, an expert in making payments disappear," commented Panda.tv owner Wang Sicong. "I mean, where else can my friends stash all of the tournament prize pools they're keeping?"
"All Westerners can do about it is send angry tweets, which the government blocks for us anyway."
Besides its comraderie with Team Secret, Panda.tv also announced partnerships with other new streamers, including:
Lea "Legendarylea" May, with plans for charity streams to cure cancer in genetically-pure adults.
Ali "Gross Gore" Larsen, hosting a stream in which he reads a list of 300-400 names per day, invariably followed by "all of these people have slept with an underaged girl."
Shannon "SUNSfan" Scotten, who has fled America after being accused of investing in offshore players.
Members of the community have been split over the sudden rebellion, with supporters speaking out against "the overwhelming enforcement of Wheaton's Law."
"I like Panda.tv, since it combines my dual passions in esports and in softcore Asian porn," said former Twitch viewer kā. "I haven't been able to scratch that itch since ESL banned YouPorn."
"The Twitch-Riot Empire has ruled us for long enough," commented /r/the_donald user /u/apachesexual. "It is the inherent right of all free men to make career-ruining and life-destroying felony accusations."