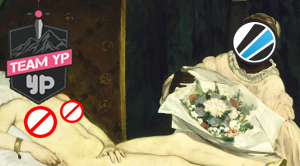 YouPorn Dumps ESL After Unearthing Affair With LiveJasmin
— April 24, 2016
Popular esports community hub YouPorn has broken up with Electronic Sports League after discovering the esports company had been cheating with live cam site LiveJasmin.
"I was only investigating LiveJasmin's consistent high-quality streams and pay-per-play system," ESL said to press, as they scrambled to move their studio gear out of the YouPorn penthouse. "It was for production purposes, I swear."
"You know what? We at ESL have no use for some easy website like YouPorn," stated filthy cheater Ken "Hot_Bid" Chen in a 10,000-character TwitLonger. "Frankly, my coworkers and I would rather masturbate to our own self-importance."
Feras Antoon, Head Onanist at YP parent company MindGeek, said the split was a long time coming.
"ESL's little shindigs are beset by disappointing delays, inconsistency, and connection failures," said Antoon, who earns a few cents every time someone masturbates. "They simply cannot match YouPorn's production value."
"To be honest though, I'm impressed with how effectively ESL is able to spam its viewers with annoying advertising," conceded David Marmorstein Tassillo, MindGeek co-owner and Patron Saint of Coitus Interruptus.
"Frankly, porn is a terrible industry," said ESL CEO Ralf Reichert. "It's rife with corruption, exploitation, unhealthy habits, and even illegal activity. It exploits impressionable young adults with questionable decision-making skills. Addicts can find themselves hundreds or even thousands of dollars in debt, and shunned from society."
"That's why we've decided to continue our partnership with CS:GO Lounge," he continued. "Want cool skins? Bet on wins."