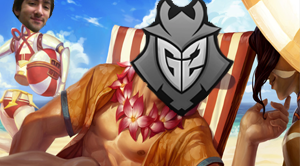 G2 Drops Out of LCS Summer Split, Takes Vacation Instead
— May 5, 2016
After a bold decision to suspend practice ahead of a major international tournament, G2 Esports announced that they would not play in the 2016 European League Championship Series Summer Split. Instead, the whole team will use the time to take another well-deserved vacation.
In a press release made Thursday, G2 affirmed how proud they were of themselves for coming up with such a novel strategy. Additionally, they stated that the stress from competing in consecutive splits is unparalleled in eSports and would be detrimental toward their level of play.
"Even though we've lost all of our games so far at MSI, going on vacation and not practicing has made a huge difference in our energy and motivation to do well!" beamed midlaner Luca "PerkZ" Perkovic. "Besides, it's not like practice would have helped against SKT. They're unbeatable!! :)"
At this point, Perkovic stopped to explain that when he said he was on vacation and did not practice, he actually meant that he was not on vacation and practiced every day. Also, on second thought, it was a vacation but really it was all due to visa issues.
"It's fine, we'll improve as the tournament goes on," added team owner Carlos "Ocelote" Santiago, demonstrating an uncharacteristic awareness of the relationship between practice and skill.
Santiago, who made eleventy billion thousand dollars in the 2015 fiscal year, said his players were massively overworked. According to him, the players had the Herculean task of playing video games "10 hours a day for 6 days a week for 3 months straight," a grueling schedule that is also known by some as "a normal fucking workweek."
"It's incredibly disrespectful for G2 to earn their spot on MSI, only to squander it," said legendary coach Christopher "MonteCristo" Mykles in a lengthy rant on YouTube. "Instead, they should have left to bootcamp in Korea before the split even ended, only to come back and immediately lose 0-3."
Perkovic said that though his team may not find any wins at MSI, at least they'll find themselves.
"Find ourselves behind IWC, that is."