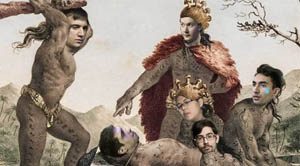 Team Secret Conducts Human Sacrifice In Hopes Of TI6 Invite
— June 8, 2016
The Team Secret Dota 2 squad have reportedly accelerated preparations for their quarterly human sacrifice, hoping for an invite to The International 6, the only event keeping Dota 2 relevant among the likes of LoL, CS:GO, and Overwatch.
He Who Sees the Seven Nights and Secret team captain Clement "Puppey" Ivanov has been arranging ritual ingredients in their team suite in the Mall of Asia Arena.
"It was a shame that our ex-peers Misery and w33ha had to…. vanish, before the Major," said Puppey as he prepared a long table in the team's Suite looking down upon thee Mall of Asia Arena. His long, black cloak flowed with velcro patches from sponsors and teams past and present. "Our fans feel their ultimate contribution was in vain, but we will ensure a much greater power in the future. After all, Universe holds the Aegis — his blood will bring eternal esports relevance."
When contacted for comment, a representative for Saahil "Universe" Arora stated that he cannot be found and fans would be greatly rewarded for bringing him alive.
Artour "RTZ" Babaev was found outside the suite donning a cloak worn and faded from use and re-use, holding his place in a salt-cleansing circle. "I took time off from Secret because I thought I could just get into a tournament with skill and camaraderie alone," he explained. "But honestly, this is ten times better. Now I truly know what it means to Bleed Blue."
When asked how they managed the setup, team manager and community seer Matthew "CyborgMatt" Bailey replied that he acquired the funding through "some former peers that you need not worry about anymore." Muffled accusations sounding eerily like former player KuroKy could be heard from the trunk he sat on.
At time of publication, Secret's sacrifice was deterred as Na'Vi player Dendi the White drew the soft, spirited tears and emotions of the audience to power the team's remaining Major run.