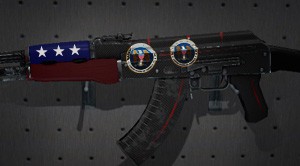 NSA wins US Government Intramural CS:GO League
— January 15, 2015
The National Security Agency's team 'No Scope Agency' has won the annual 2014-15 US Government Intramural League for Counter Strike: Global Offensive, defeating the Drug Enforcement Administration's 'Clan DEA[gle]' 3:0 in the finals.
CS:GO is currently the most popular game among US government employees. The Federal Government holds a competition between its armed forces and agencies each year, with even former presidents fielding teams.
"My dad's favorite map is Dust. But I like Dust2," said former US President George W. Bush, who now captains 'Bush eSports' after Dick Cheney was dismissed following numerous friendly fire incidents. "We've successfully found weapons of mass destruction on both maps every round."
Bush was able to handily defeat President Obama's team, as the current administration was unable to win rounds due to mandatory background checks and a self-imposed assault weapons ban.
The NSA bounced back from their disappointing finish last year when the team's lurker Edward Snowden went to Russia on extended vacation. While this is the NSA's first USGILFCS:GO win, many other departments have called the results into question.
"The NSA's rotations were just too good," said Assistant Director Skinner, shot-caller for 'Frag Boys Inc,' the FBI's team. "It's almost as if they knew where we were going."
"Section II of the Patriot Act allows us to legally wiretap other teams' communications," said one NSA spokesperson. "But only when we're on the CT side."
The NSA has also reached out to Valve regarding their Overwatch system, expressing interest in how Valve managed to "get American citizens to spy on each other."
If you like our content, please consider supporting us through our Patreon.