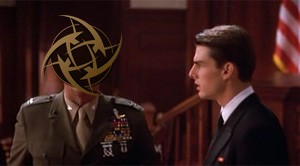 Valve Releases New NiP-Themed Hostage Map
— November 5, 2015
BREAKING:
In response to the recent allegations of Ninjas in Pyjamas's failure to pay nearly $340,000 in past salary and prize money, Valve has released a new operation for Counter-Strike: Global Offensive, titled "Truth in NiP." In the new update, Terrorists will play as NiP Management, while Counter-Terrorists can play as either Richard Lewis or the Swedish Tax Agency.
Truth in NiP features two maps, one for Hostage Rescue and one for Bomb Defusal. In cs_hearsay, Counter-Terrorists must free all five NiP players currently under contract; in de_mist_payments, Terrorists must plant a bomb on one of the two filing cabinets where NiP keeps its tax and accounting records.
Since the controversy started, several NiP players have supported their organization. However, those statements have been met with skepticism from the community, who believe the players may have been contractually obligated to make such statements and whose social media accounts may have been seized.
The map will also introduce a new mechanic: a sixth, Terrorist-aligned player, titled "CEO," that the CTs must hunt and kill. The CEO has no weapons or armor, and does not contribute to the team. However, if the CEO is alive at the end of the round, the CT side will not receive any money from kills, rescues, or round bonuses.
"I have received all prize money and salary that I've earned," said Aleksi "allu" Jalli to a disbelieving mob of fans. Suspecting that NiP management had paid him off, the fans repeatedly chanted "bought Allu."



If you like our content, please consider supporting us through our ESEX Patreon.