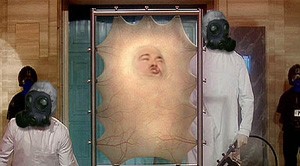 ESL Regretting Hosting CS:GO Tournament on Surface of Sun
— September 11, 2015
BREAKING:
The Electronic Sports League [ESL] has today issued a statement detailing the delay of ESL Sol, explaining that the event could be deferred by hours, largely due to a last-minute format modification:
"These changes have brought forth various challenges with the venue and timing – the most difficult of which is the 5,778 Kelvin temperature — coupled with the fact that the event is held in the open air, which also happens to be made of superheated plasma."
Tragedy struck further for ESL when the entire cast of live commentators were either lethally-bombarded by cosmic radiation or roasted alive in the heat of solar winds. The Cologne-based esports company has had to rely on remote casters until they can fly in rogue caster Duncan "Thorin" Shields, who reports feeling warm for the first time in his life.
Nevertheless, ESL has noted some positive outcomes of hosting a game on the Sun. The tournament host was able to save money on sound booths, as the only noise that occurs on the sun are the intense pressure waves that travel into the inner corona, with wavelengths of hundreds of miles.
Despite these major setbacks, ESL is proud that it has held the very first tournament within 91 million miles of the burning astral furnace that powers our solar system — a major milestone for the heliacal esports community.
"At ESL, we are dedicated to expanding esports to new and daring places," declared ESL CEO Ralf Reichert. "We are proud to have hosted the Sun's first contact with esports; but even more importantly, we are glad to have facilitated most of the esports community's first contact with the Sun."



If you like our content, please consider supporting us through our ESEX Patreon.