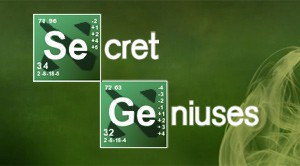 Other EG Players Speak Out on Transfer Drama
— January 16, 2015
Former Evil Geniuses player Artour "Arteezy" Babaev shocked commentators yesterday with a
lengthy and insightful monologue
about the still-unfolding drama and history between high-level Dota 2 teams Evil Geniuses, Cloud 9, and Team Secret.
"The other day I was watching an episode of Grey's Anatomy and it's always relevant to my Dota career," said Babaev, referring to the fictional American medical drama television series popular among women ages 18-25 that has nothing to do with Dota. "Basically, I'm happy I was at EG, but I'm moving on to a different hospital."
EG players went on to further compare the team-shuffle situation with their popular television series.
"It's like Friends but we were never really friends," said Clinton "Fear" Loomis, referring to the NBC sitcom that aired many years before some of EG's players were born. "Arteezy is Joey, the dumbest character that gets his own spin-off show that objectively will just be worse."
"It's like Peter Pan but Peter kicks some of the L O S T B O Y S out for not working hard enough," said Peter "PPD" Dager, EG's captain and drafter. "They then join Captain Hook and the pirates and are unable to place as high as EG at The International 5."
"It's like Breaking Bad where me and Artour are running from the law," said Ludwig "zai" Wåhlberg, who also left EG for Team Secret. "I'm Heisenberg and he's Jesse. Or maybe I'm Jesse. Or maybe we're both the meth."
"It's like The Little Mermaid when Ariel leaves her world, people, and culture and is muted and rendered subaltern in exchange for perceived greater social, romantic, and terrestrial mobility," said Saahil "Universe" Arora. "The difference is, of course, that Ariel was eventually welcomed back at the film's denouement."
"It's like SpongeBob SquarePants when SpongeBob and Patrick attend a jousting tournament and travel back in time to the 11th century," said Syed "Suma1L" Hassan. "I really liked that episode."
Other Dota 2 progamers also gave their opinions on the situation.
"It's like RahXephon where Arteezy and Zai carry the Mu phase genetic marker but EG don't know it," said Jacky "EternalEnVy" Mao, captain of Cloud 9. "Arteezy is able to transverse Jupiter barrier and controls his Dolem so well that he's accepted by the Mulians even though he's from the Bähbev Foundation."
If you like our content, please consider supporting us through our Patreon.