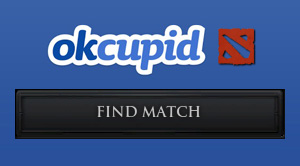 Dota 2 Joins OKCupid
— January 6, 2014
With Cracked's recent effort to
create the worst online dating profile ever
, we decided to do the same thing but with a Dota 2 twist. Could we create the most unappealing Dota 2 themed online dating profile ever? Would we still get messages if the pics were hot?
We put the profile up for 2 hours, where it was viewed 300 times and sent 50 messages, after which we uninstalled deleted it. Here are the results. Enjoy!


About Us
ESEX is a humor and entertainment website centered around the ESPORTS scene.
Want to write for ESEX? Tell us why, and include a few ideas in your message.
ESEX has ads because we like money. Please consider disabling adblock if you enjoy our content.
Popular Articles
— December 17, 2013

The first edition of our ESEX Crossword is out. Be the first to complete it!

— February 27, 2014

Riot hopes that its "Hexakill" game mode can finally solve the troublesome issue of 2v1 lanes.

— December 30, 2013

Showmatch with record prize pool proves once and for all who is the best non-Korean player in 2013.
Categories