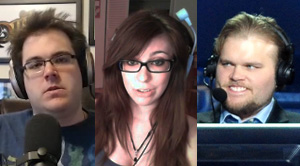 Study Shows "Whiny Bitch" Only One Who Isn't Whiny Bitch
— January 7, 2014
A study on the spat between long-time co-hosts JP "itmeJP" McDaniel and Geoff "iNcontroL" Robinson has shown that the two may be the only whiny bitches involved.
In an ironic start to 2014's ESPORTS drama, Robinson, while in-character, told RollPlay: Dungeons & Dragons cast member Genevieve "Livinpink" Forget that "no one likes a whiny bitch." The comment provoked host McDaniel to kick him from the popular show in what some call "a bitch move."
Researchers have drawn on years of broadcasts, tweets, and leaked Skype conversations in their efforts to determine the extent of JP McDaniel's success with what seems to have been a long-term whiny bitch strategy. The findings have indicated that McDaniel might produce better results if he were to execute a bold new "not-bitch" plan.
Many fans have sided with Robinson, who initially appeared to be less of a whiny bitch until he posted details of the whole affair in a blog before deleting it hours later.
Despite Forget's seemingly indifferent reaction to Robinson's words, some have supported JP's impassioned defense. "We feel that gratuitously defending women online with no transparent ulterior motives is a staple of Internet culture," said one member of the Caucasian Youth Knight Association. "JP did the right thing."
Robinson now finds himself forcibly retired from one of his most promising ESPORTS ventures to date, and it remains to be seen whether or not he will be able to find another competitive Dungeons & Dragons party that will take him on after this controversial incident.
When contacted by ESEX, Forget declined to comment, presumably because she did not wish to sound "like a whiny bitch."