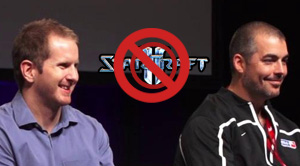 MLG Fails At Dropping StarCraft 2
— January 9, 2014
Major League Gaming
conceded yesterday
that they have failed in their efforts to drop StarCraft 2 and that the game will be at their MLG Anaheim event in June 2014. StarCraft 2 will share the spotlight with Dota 2 and Call of Duty: Ghosts, two other games MLG has failed to drop.
"It is with great regret and disappointment that we must inform you that StarCraft 2 is back on the pro circuit," said MLG Vice President and hardbody Adam Apicella. "We basically had no choice but to abandon our strategy of dropping the game."
MLG officials have expressed concerns that picking up StarCraft 2 again may discourage fans from directing negativity or criticism toward them. In hopes of mitigating the backlash, MLG will be handing out free pitchforks to the first 1,000 Anaheim attendees provided by their new sponsor Home Depot.
"We recognize and respect the community's longstanding history and culture of hate toward MLG," said CEO Sundance DiGiovanni. "We hope this news doesn't discourage anyone from participating in prospective hate-trains."
Analysts have determined that while MLG was successful in dropping games like Halo and Tekken, it has failed to drop an unprecedented 100% of the games at MLG Anaheim, a tournament that likely will be conducted without the successfully unpopular "extended series" format.
"MLG can't even properly not not pick up StarCraft," said Reddit user MLGnoSC2ope420. "And since it's NA only, there won't even be many Koreans there to cheer against."
The unexpected positive news from MLG has been met by fear and panic from StarCraft fans normally accustomed to waves of retirements and drama.
"Alive game?" said one North American progamer as he reinstalled Heart of the Swarm. "Alive game??"
Sources say that MLG is treating this incident as a temporary setback in their plans and that they plan on successfully inducing more hate in Q4 2014.