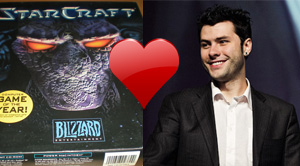 Tasteless Reignites Passion with Former Flame
— January 27, 2014
Nick "Tasteless" Plott was seen recently in a Twitch session with former sweetheart Brood War. The pair played games for several hours, rekindling a decade-old love affair that was cut short when he allegedly began seeing her younger sequel.
Tasteless was spotted wearing a graphic tee in a darkened room with no pants, finishing the outfit with a stylish black and red Thermaltake headset to provide excellent sound quality and maximum comfort. Brood War showed off her 640 x 480 resolution in crisp 8-bit colors, looking as radiant as the day she won 1998's Game of the Year award.
Plott denied rumors that he was ever an item with StarCraft 2, who many fans consider more popular, better looking, and younger than the 16-year-old Brood War.
"I'd never be with a game that young. Ask Dan, he goes for the betas," said Plott, referring to his Sons of StarCraft co-star Dan "Artosis" Stemkoski, a world champion Hearthstone professional player who sometimes casts GSL.
Last seen with Dota 2, the notorious playboy Plott is known for flirting with several older games like Street Fighter and Battle Toads, though those relationships appeared to be strictly casual.
After a particularly exciting proxy reaver play, Plott remarked that rekindling his romance with Brood War has helped him find his passion again. Sources report Tasteless's family couldn't be happier, having always loved the quirky, traditional Brood War, even approving of the polyamorous relationship the game had with Nick and his brother, Sean "Day9" Plott.
StarCraft 2 has been involved with many popular casters, but often sees them leave to commentate other games, leaving the heartbroken RTS unplayed with. Last year, a scandal broke out when a home video revealed that SC2's on again, off again boyfriend Kevin "RotterdaM" van der Kooi was cheating on her with World of Tanks.
Currently, StarCraft 2 is dating Shaun "Apollo" Clark, and while the couple is going strong, many feel he is one or two swarmhost stalemates away from bolting for League of Legends.