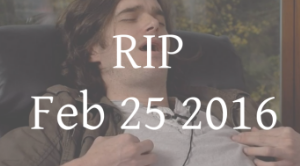 Funeral of 2GD's Hosting Career Held in Shanghai
— February 26, 2016
The funeral of James "2GD" Harding's Dota 2 hosting career was held last night with all Dota 2 talent in attendance, causing several hours of delays to the Shanghai Major group stage. The funeral was streamed live on Twitch.tv and produced by Chinese video game giant Perfect World.
The funeral was hailed a success, as services began just 90 minutes behind schedule and Perfect World was able to turn their inability to hire competent audio engineers to their advantage.
"Funerals are supposed to be quiet, so the lack of any discernable audio is entirely intentional," said one Perfect World representative, who added that they were pleased to announce that the funeral "will be presented in full 144hz."
The opening eulogy was to be delivered by James Harding himself.
"Are we live yet?" Harding asked while tapping his ear microphone. "Testing, 1-2-3 cunt."
Production quickly cut to an instant replay of a previous career funeral, of Grant "GranDGranT" Harris calling Winter a gook.
Harding was unable to complete his own eulogy as Valve apparently fired him five minutes into the speech, cutting to break and returning to the "Yamergate" discussion panel, who proceeded to make their predictions on who would be the next host.
The casket which held Harding's deceased hosting career was painted in GD Studio colors and carried by Rikard "skrff" Melin, Johan "Weppas" Westberg, Andy "Draskyl" Stiles, Bruno "Bruno" Carlucci, and Cristian "Trance" Tamas. The sixth pallbearer was an unnamed man cosplaying as a robot from "Diabotical," Harding's yet-to-be-released indie game.
Fortunately, the Chinese stream of the funeral was able to avoid unbalanced audio, low volume, overboosted treble, random clipping noises, muted game sounds, disjointed transitions, improperly timed graphics, lengthy stream delays, computer problems, lack of admins standing by, low refresh rate monitors, miscues with hosts and production, the stream going down, and other assorted issues.
The Chinese host concluded his eulogy with the classic proverb "消灭邪恶的种子,否则长大后会后患无穷" which roughly translates to "We will remember you James Harding and all that you have done for us."