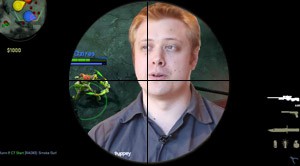 Tobi Officially Moves to CS:GO to Avoid Drama
— March 23, 2015
Prominent Dota 2 commentator and Drow Ranger fetishist Toby "Tobiwan" Dawson has announced today that his switch to casting competitive Counter-Strike: Global Offensive was in part precipitated by the Dota 2 community's "immaturity and passion for mindless hate."
While both CS:GO and Dota 2 have drama, Dawson correctly pointed out that only one of these communities has accused a progamer's mother of strategic pausing. However, critics are not convinced Dawson will find less drama in the Counter-Strike scene.
In a study of each game's respective subreddit, ESEX scientists have found that in the past year, 13.5% of top 200 r/Dota2 posts have been drama with an aggregate 64,273 positive score. In comparison, 19.5% of r/GlobalOffensive posts have been drama with an aggregate score of 97,886.
Moreover, in Dawson's specified category of "hateful" drama only the CS:GO subreddit has a thread in the top 200 that involves an ISIS sponsorship. Audiences have also indicated that Dawson's value as a commentator increases in such an environment.
"Moving from Dota 2 to CS:GO to avoid drama is like moving from CS:GO to Dota 2 because you don't like playing against a Sniper," said Jacob "Maelk" Toft-Andersen, former professional player and notable Tobiwan analyst. "It's like moving from Twitch to Dailymotion because you don't like stream lag."
If you like our content, please consider supporting us through our Patreon.