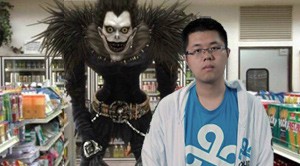 Ar1se Out of Team Tinker Due to Supernatural Kick Artifact
— January 20, 2015
It appears that the true catalyst behind Romanian Dota 2 player Turtoi "Ar1se" Ionut's removal from Team Tinker may be none other than Jacky "EternalEnVy" Mao.
Ionut was seen playing for Team Tinker in several matches as their offlaner before a very public disagreement with Mao in a ranked Dota 2 match. The situation escalated, with Ionut eventually threatening to "smash [Mao's] head in" when he meets him.
Just days later, Ionut found himself teamless. These events lend credence to the rumors that Mao has been in possession of an artifact known as the "Kick Note" since early 2013 and used it to avoid a physical confrontation with Ionut at a future Dota 2 event.
Parapsychologists worked closely with note and journal expert Brian "Fluff" Lee to conclude that the Kick Note currently has several rules, some of which Mao may not be aware of:
1. The player whose name is written will be immediately kicked from his team.
2. The team that kicks the player will undergo a name change.
3. The new team will then go on to win The International.
The first KN incident occurred in 2013, when Mao wrote his own name in the Note, mistaking it for a common diary. He was summarily dismissed from NoTideHunter, who rebranded as Alliance and went on to win TI3. In 2014, a fearful Mao wrote the names of Chinese players Chuan and Faith in the Note when it was rumored that they would join Hao, Mu, and Xiao8 on a Chinese "Dream Team." The team later became Newbee and went on to win TI4.
The artifact appears to be gaining in power, as Chuan, Faith, and Arise seem to have no memory of their original teams and have denied ever being on them. The KN also appears to be draining Mao's life force, hence the infrequency of its use and his declining passion.
Should the Kick Note power hold, Team Tinker will go on to change their name and win TI5.
If you like our content, please consider supporting us through our Patreon.