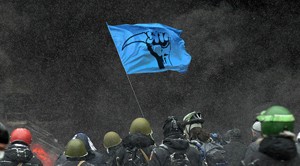 CS:GO Community Ninjas TI5 Prize Money
— August 8, 2015
Early reports from Seattle's Key Arena this morning indicate that a team of elite paramilitaries claiming to represent the "downtrodden CS:GO community" has "ninja'd" the $18 million Dota 2 tournament's prize pool to fund a similar competition for Counter-Strike: Global Offensive.
Aside from the missing prize money, the group is thought to be responsible for significant vandalism to the arena's exterior walls, where one hundred and twenty-eight deep scores were made with a range of different knives. Below were carved the words, "A cut for every tick that was taken from us."
While the majority of those involved escaped under cover of smoke, authorities found CS:GO entertainer FRANKIEonPCin1080p unconscious at the scene as a result of what later turned out to be exhaustion. A trembling Frankie claimed not to have any idea what he was being accused of, and had simply been practicing in full camouflage for an approaching triple jump competition at the venue.
Counter-terrorists successfully apprehended and interviewed two other members of the group. Respected caster and YouTuber Mohan "Launders" Govindasamy had been found seriously injured on arena grounds, having allegedly been taken down by FRANKIE, though he claims it was "unintentional."
While detained, Mohan admitted, "In the beginning, we framed the prize money in operation 'cs_denied' as hostages we needed to rescue, since shooting the hostage would literally lose us money. We later had to change the mission to 'de_international' when we realised that none of us remembered how to play a hostage map."
Counter-terrorists later found Mohan's cache of improvised Molotov cocktails, made using what appeared to be bottles of prescription attention deficit disorder medication. They also uncovered a crude map of the arena marked "callouts:"
Authorities then tracked infamous streamer Moe "m0E" Assad after tracing a series of obscure paints found in the knife cuts to the arena's walls. During interrogation, Assad admitted to having acted as the group's financial advisor. He described the operation as a "successful eco," adding that it had proved impossible to find most guns at CS:GO equivalent prices, though the team had acquired Karambit | Fades at a nearby mall for just $30 each.
Investigation continues into the activities of suspect and Dota 2 caster Toby "Tobiwan" Dawson, who had remained at the arena after the day's Dota 2 matches. On discovering the heist, a confused Dawson failed to contact the authorities, but instead began to deliver live commentary.
Asked why he had remained in the arena after hours, a sheepish Dawson admitted, "By playing Competitive you are committing to a full match, which could last up to 90 minutes. Abandoning the match after you click 'ACCEPT' will result in a penalty."



If you like our content, please consider supporting us through our ESEX Patreon.