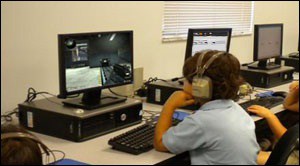 Swedish Elementary School Hosts Non-Fixed CS:GO Tournament
— February 5, 2015
The Kiruna kommun primary school in Northern Sweden has hosted what many believe to be a completely non-fixed Counter-Strike: Global Offensive tournament. Nippers in Pyjamas defeated iLIKEFLOWERS 21:18 in a juicebox-fueled final at the school's computer lab.
Amid the increasingly common revelations of match-fixing, the school's principal, Stefan Persson, stated that, "We are incredibly proud that the children played an honest tournament. But we are also very surprised, since it's been our experience that children will do anything for more stickers."
Apparently immune to the lure of skins, many of the competitors proved to be more concerned with winning prizes than multiplying the value of their Steam inventories.
"Most of the gun skins are really ugly, it's kind of weird that people want to spend money on them," remarked nine-year-old Linda Bäckström after her team won a semi-final match. "Besides, the winner gets a huge bag of licorice and a trip to the NiP mansion, which is just like Sleeping Beauty's palace."
Despite the jubilant reception the match received, experts noted that the tournament's success may simply be a result of the innocence of youth.
"We've found that children are far less likely to throw matches until around ninth grade, which happens to be the same time they're taught statistics," said CSGO Lounge's resident pediatrician Courtney 'Honey' Timpson. "That said, many of our users still seem to have serious issues with object permanence."
Asked to comment on the match, Swedish scholastic administrators noted with pride that the only thing thrown was a minor tantrum by third-grader Henrik "HEgoesBoom" Karlsson, after bottom-fragging three games in a row. The school's PE teacher/CS:GO coach indicated that the outburst may be related to the fact that players at Henrik's level have been falling victim to "distributed denial of sleeptime" attacks during their afternoon nap.
If you like our content, please consider supporting us through our Patreon.