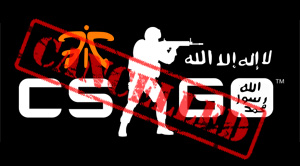 ISIS Cancels Plans for Fnatic CS:GO Sponsorship
— December 4, 2014
Sources indicate that the Islamic State of Iraq and Syria has cancelled its planned sponsorship of Fnatic's Counter-Strike: Global Offensive team, citing public image concerns.
"The CS:GO community has been sending some really terrible messages to our agents," said an ISIS spokesperson.
"Only secular infidels and CS:GO Lounge admins deserve these death threats," he added.
The paramilitary organisation took issue with the Swedish team's use of underhanded tactics on the CT side, most notably the infamous boost on de_Overpass at DreamHack which resulted in the annihilation of an unsuspecting terrorist team.
In a video filmed at the organisation's underground headquarters, an ISIS spokesman described Fnatic's actions as "morally offensive." The statement was delivered over the hooded, inert form of Fnatic's social media manager, who was reported missing late Sunday night.
"Our recruits were looking forward to Fnatic-ISIS gun-skins and stickers," said a masked ISIS Lieutenant. "But Fnatic's self-forfeiture from DreamHack would have been the first time ISIS ever withdrew from combat."
ISIS had already reaped some benefits from the potential partnership, as Fnatic professional player Robin "flusha" Rönnquist was sent to train ISIS insurgents in Iraq, increasing their weapon accuracy by 40% through smoke and walls.
The extremist rebel group has had years of experience evading VAC detection in the mountains of Syria, and has never been banned, disqualified from a tournament, league, or ladder.
Despite the cancellation, ISIS has expressed interest in sponsoring future DreamHack CS:GO events, as it admires the speed and persistence of DreamHack administrators' ethnic cleansing of non-Swedish players from competitions.