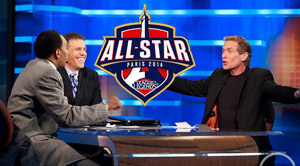 ESEX Analysis: LoL All-Stars 2014
— May 16, 2014
C9 Increasingly Worried as Hai Continues to Pretend that He Was There at All-Stars
The members of Cloud 9 have expressed escalating concern over midlaner Hai "Hai" Du Lam's recent behavior, as the 21-year-old progamer allegedly refuses to acknowledge that he did not attend All-Stars. First Hai attempted to shotcall for his team over Twitter, but recently he has been observed playing against an SKT T1 jersey in order to re-enact the game against Faker.
"At first, I thought Hai was playing a really weird joke, or that he had found the nastier parts of my stash," stated modern Samson and C9 jungler William "Meteos" Hartman.
"I'm worried that Hai might be having a mental breakdown," added C9 manager Andy "Reginald" Dinh. "It is already difficult dealing with Meteos' dissociative identity disorder — when his ego developed sentience — and Chaox's shrinking disorder."
SKT T1 midlaner Lee "Faker" Sang-hyeok added: "Wait, I did not play against Hai?"
---
Madlife, Doublelift Star in Quirky Romantic Comedy Set in Paris

League of Legends 2014 All-Stars became the backdrop for a wacky romantic comedy when a relationship blossomed between CLG ADC Yiliang "Doublelift" Peng and CJ Entus Frost support Hong "MadLife" Min-gi.
"One was an outgoing farm boy. Another was a shy god among men. Together, they lost to two Europeans in a 2v2," declared the movie trailer narrator.
"Madlife and I are two very different people, but our differences have only brought us closer together," stated Doublelift from his seat at a picturesque cafe table. "For example, Madlife loves to roam and make plays, which makes up for the fact that I never leave the side lanes for the entire game."
Meanwhile, Henrik "Froggen" Hansen found himself embroiled in his own quirky movie plot when, every midnight, he would find himself magically transported through time back to Season 2, where he brushed up on his Anivia.
---
Top Non-Korean Team Almost Wins A Game Against Koreans
In a nail biting 3–0 series, Chinese powerhouse OMG almost took a game from struggling Korean team SK Telecom T1 K. OMG almost won Game 1 until the cheers of the European crowd invigorated them to throw at Baron.
"When KT Bullets dominated IEM, it empowered them to lose 2–3 in the quarterfinals of Champions Spring 2014, whereas we were crushed 1–3," answered SKT T1 K ADC Chae "Piglet" Gwang-jin as he calculated the amount of skill he absorbed from hugging Xpeke. "Hopefully our undefeated streak at All-Stars gives us the confidence we need to win our match in the NLB consolation tournament."
OMG received a heroes' welcome from their adoring fans back in China for doing their best against one of the top teams in the world.
The members of Fnatic were also very content with the outcome. "Fnatic could have beaten C9, C9 beat OMG once, and OMG nearly took a game off SKT, so really, Fnatic is at the level of the Koreans."
Members of TPA were last seen doubling crop donations at the Shrine of Stanley.
---
Redbeard Congratulates SK Gaming for Winning All-Stars

In a fantastic closing to the wildly-popular 2014 All-Stars, Vice President of Esports Dustin "RedBeard" Beck proudly congratulated SK Gaming for winning the final round of All-Stars.
"Today is a momentous moment in LoL history," stated Beck, an Ottoman pirate. "SK's victory over OGN is an honor not only for SK itself, but the entire Japanese region."
The audience was deeply touched and inspired by the speech. "Je ne sais pas ce qu'il a dit," said one fan.
RedBeard later stated that he was excited to meet with the victorious SK Gaming and their famous midlaner, Joker.
---
The Five Stages of Fnatic
---
Related Headlines:
EU Blames Losses on Sub
Link: "Nien looks more Asian than I remember."
Esports Express Makes It through Entire Article without Making French Jokes