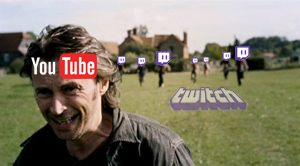 Twitch Chat Users May Destroy YouTube Ecosystem
— May 19, 2014
Yesterday, Variety
reported
that popular video game streaming service Twitch.tv has been purchased for $1 billion by video sharing website YouTube.
While many ESPORTS fans have expressed their excitement at the prospect of consolidating YouTube and Twitch lag complaints at a single entity, Internet scientists have urged caution. Many have voiced concern for the the destruction of the fragile YouTube comment section ecosystem through the introduction of the unpredictable, virus-like Twitch chat user.
"The Twitch user is a force of nature that violently and remorselessly renders any comment section inhospitable," said web naturalist David Kappaborough. "YouTube users, despite years of developing immunity to the worst of comments, stand no chance."
We've modeled a wordcloud of the typical YouTube comment section, taken as an average from the top YouTube videos today and their comments. As you can see, there is a flourishing and diverse comment environment here:



However, once you introduce an apex predator like the Twitch chat user — like those we found in the top three Twitch.tv streams at the moment — in just a few short weeks the comments section will be damaged beyond repair, as seen in this projection:



Others have warned that in addition to the normal cycle of consume, destroy, move on, Twitch chat also may "turn" normal Internet posters into mindless spam zombies. ESEX interviewed a veteran of two Twitch Plays Pokemon campaigns, who added, "left, left, right, A, A, B."
This might not even be the most worrying aspect of the buyout. ESEX investigators have discovered that YouTube is owned by a mysterious supercompany known only as "Google." The first search result on Google for "Google" is the search engine itself, creating a self-referencing loop of shadiness from which we could not escape. After several hours of unsuccessful attempts to use Bing, we discovered that Google.com is also the first result from Chinese search giant Baidu.
Google is not the only shadowy entity to have expressed an interest in the streaming service. Just hours after the news broke, it was revealed that Twitch had also been in talks with its competitor Azubu, who reportedly offered to buy Twitch for a staggering "eleventy billion dollars" and has repeatedly assured all parties that, "We're good for it."