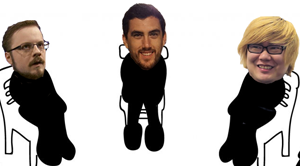 LCS Ex-Coach Support Group Held in Church Basement
— February 17, 2016

A group of ex-coaches, spurned by esports organizations, meet in a church basement every Tuesday afternoon to discuss their lives, troubles, and the teams who left them with nothing but a perfectly executed and completely vague PR statement.
The support group shares the church with the ex-player support group, also known as the current coach support group.
Coaches who have experienced abuse from players, managers, or player managers often need time to heal physically and emotionally, explained William "Scarra" Li, the leader of the support group. The weekly gathering exists for those coaches to share stories, offer compassion, and discuss innovative coaching techniques such as reading The Art of War and asking each other to smile.
"At first, I was at least able to draw some warding strategies for fun during team meetings," said former Origen coach Titus "LeDuck" Hafner, visibly distraught at the memory. "Nobody would ever see them, of course, but at least I had something to do as the team strategized. But a week before I was fired, they even took away my whiteboard, calling me 'distracting.'"
But not all is lost for most coaches, Li said. A coach that has suffered abuse may want to take a less stressful job, such as content producer, while he takes time to reflect on his innermost suffering. With time and guidance, the once-broken men may again become head coaches of yet another dysfunctional team of former stars.
Some coaches have been hurt too deeply, and may never again experience positive life experiences. "For these cases, we house and nurture them here," Li explained. "But for any of those who want to make a difference, used coaches can be adopted for five dollars, and can subsist purely on wood shavings and occasional access to Twitter."
"Please take one," he added, desperately motioning at a cage in the corner containing LastShadow, hissing at a nearby picture of kkOma.
At press time, TSM introduced their new coach by video conference. "I love Borgsen," he said, shaking nervously. "I hope we win the World Cup, taking out SKT T T1's nexi."