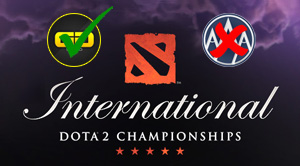 Valve Disqualifies Beyond the Summit from TI4 After Roster Change
— May 9, 2014
Valve Corporation announced today that popular Dota 2 broadcasting team Beyond the Summit has been disqualified from casting The International 4 for failing to maintain a stable casting roster.
Valve reportedly removed the BTS logo from their website for the TI4 Qualifiers North American Coverage Hub three to five days ago. The logo's absence was discovered and reported by a random Reddit user.
Valve has not released a comment on the matter, but ESEX has reproduced what we believe to be an accurate simulation of Valve making a statement to the community:
"It has come to our attention that Beyond the Summit has replaced David "Luminous" Zhang with Ben "Merlini" Wu," said Adrian Finol, who paused briefly before adding, "Get fucked, BTS."
Zhang, along with David "LD" Gorman have previously led Beyond the Summit to back-to-back TI finals appearances, most recently casting The International 3 in August 2013. However, Zhang left for the GD Studio casting team in January 2014 and BTS has since added Wu and Andrew "Zyori" Campbell.
"It's no surprise Lumi left to join us," said GD studio analytical caster and Breaking Bad stand-in Andrew "Draskyl" Stiles. "The NA Dota casting region is just weaker compared to Europe."
The TI4 EU Coverage Hub boasts an impressive, diverse roster that includes ten different accents and nationalities as well as a 24-hour persistent webcam. It will also feature no less than three women while the NA hub may only have a single Enchantress cosplay worn by confirmed male David "GoDz" Parker.
Zhang is just one of several talented casters and personalities to leave America for the Europe TI4 Coverage Hub, joining Austin "Capitalist" Walsh, Bruno "Bruno" Carlucci, and Jessica "Ruckus" Brohard, who went undefeated in the first annual James "2GD" Harding Twitter Profile Picture Qualifier Tournament.
The casting vacancy left by BTS's departure has opened the door for TI4 grand finals to be cast by joinDota's Toby "TobiWan" Dawson, who covered the first International Grand Finals in 2011. Valve has stated that Dawson must locate and re-enlist his original casting partner, Liu "Slesh" Su-Leo, in order to be eligible.
If anyone has information or knowledge of the whereabouts of Slesh, described as an average height Asian male who may play video games, please contact us immediately.