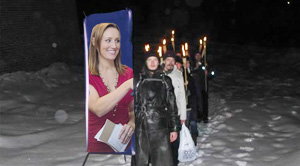 Valve's TI4 Host Decision Pleases Kaci's Religious Followers
— March 5, 2014
Worshippers of FOX News anchor and reporter Kaci "Kaci" Aitchison are celebrating Valve's decision to have her host
The International 4
after her successful performance at TI3 in August 2013.
It appears Kaci was so popular among Dota 2 viewers that a group of her fans sought to have their "Church of Kaci" organization officially recognized as a religion. This year, Valve has acknowledged and capitalized on Kaci's popularity by centering TI4 largely around Kaci herself.
"This year, we're very happy to present the Kaci compendium," said one Valve rep, who added there was no official news on venue, event dates, or team invites for the July 2014 event.
The "Kacipendium" will feature a Kaci announcer pack, Fantasy Kaci, a custom FOX news microphone for Naga Siren, as well as offering many stretch goals:
$100,000 – Kaci will interview herself
$200,000 – Kaci gains unusual effects on stream
$300,000 – Kaci may or may not wear a hat on Day 4
$400,000 – Kaci will hug one compendium purchaser from each region
$500,000 – Kaci will throw one shoe (the left shoe) into the audience each day
$1,000,000 – Kaci's TI4 dress will be raffled to one random compendium owner

"Valve needs to let us know if the dress will be washed before the raffle," said one Kaci fan. "I'm considering moving to Korea for less hug competition."
While the community generally agrees that more Kaci is always good, some question whether this level of cult-like worship for someone other than Gabe Newell is healthy. Critics say that Valve is enabling a level of creepiness that may disgust even the average Dota 2 fan.
"I don't like the Kaci dakimakura cover," said Reddit user kacifeet. "The material doesn't seem as supple or durable as her actual skin."
As of today, the Victoria's Secret Shop, an online vendor dedicated to authentic Kaci items, lists $299 for a strand of Kaci hair, $549 for a vial of Kaci sweat, and $1,579 for a Kaci toenail clipping with accompanying verification photo.
Weta Workshop is already working on a life-size model of Kaci, set for release at TI4.