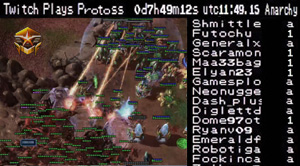 IEM to Replace NaNiwa with Twitch Plays Protoss
— March 13, 2014
ESL has announced plans to replace Alliance's Johan "NaNiwa" Lucchesi with an account powered by Twitch Plays Protoss (TPP) at the IEM World Championship in Katowice, Poland. In February, Naniwa was eliminated in the WCS Europe Round of 32 and recently stated that he has not played a single ladder game in the last month.
While critics say that a mass group of thousands of Protoss players could not possibly compete in a field featuring players like Life, herO, Polt, and sOs, many fans seem to favor TPP's chances.
"Now there's thousands of foreigners competing in IEM instead of just one," said one excited fan. "And they have all been practicing."
Protoss players have been increasingly frustrated with Blizzard's reluctance to change the Zerg swarm host, with players like Naniwa and Babyknight considering retirement. Fortunately, TPP has no such weakness, as its experience playing Pokemon Red non-stop for sixteen straight days proves invaluable in ZvP.
Sources say several players fear TPP's nearly infinite APM and invulnerability against pressure or nerves, especially with IEM's $100,000 winner-take-all format.
"Twitch Plays Protoss might be too good," said Zerg ombudsman Artur "Nerchio" Bloch. "Pokemon had eight possible commands, but Protoss really only has two or three."
In fact, it is rumored that the WCS NA Premiere League player Choi "CranK" Jae Won is actually TPP in disguise. Crank advanced in first place from his Round of 32 group, defeating Terran players aLive and TaeJa.
"Crank definitely exists — my wife has seen him eat, sleep, and walk around," said Axiom owner John "TotalBiscuit" Bain. "He is definitely not a Twitch chat."
Currently, ESL is working out the logistics and costs of flying and housing nearly 80,000 Protoss players in Poland.