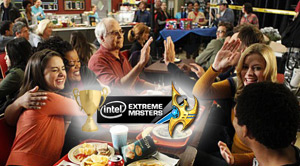 Terrans Breathe Sigh of Relief as Polt Loses IEM
— February 17, 2014
Terran players have collectively expressed their relief at Choi "Polt" Seong Hun's loss in the IEM Cologne finals last night after an unexpectedly racially balanced tournament, where an astounding three of the eight quarterfinalists were Terran.
The general feeling among Terran players at the beginning of IEM was one of excitement, as many hoped that mass-losses incurred by the Terrans in attendance would finally lead to help in the form of a Blizzard patch.
"A Polt victory does nothing for Terran players in general, most specifically, myself." said one professional Terran who did not qualify for IEM. "But a Polt loss would help the Terran race against our real opponent: David Kim."
The mood soured as Polt defeated several Protosses, including SK Telecom Players Kim "Classic" Doh Woo and Jung "Rain" Yoon Jong.
"Polt shouldn't be so selfish," said Reddit user Saladtoss. "His IEM tournament run could undo months of dedicated failure by Terran players."
Fortunately for Terrans everywhere, Polt lost to Liquid's Song "HerO" Hyeon Deok in the best-of-seven finals despite being donated a draw in Game 1. More importantly, Polt lost to a Protoss player, adding definitive evidence based upon one series that StarCraft 2 is imbalanced at the game's highest level.
"After the finals, I logged onto Battle.net hoping to lose a TvP so I could complain, but I went on a massive win streak instead," said one anonymous Terran who was afraid a Polt victory could force him to take personal responsibility for losses. "Protoss is so OP even when I win, I lose."
From the Protoss perspective, players were disappointed in their performance at IEM Cologne when compared to other recent tournaments. At Cologne, Protoss players made up only 50% of finalists, compared to the 100% PvP finals in ASUS ROG, IEM Sao Paulo, and the Ender's Game on Blu-ray tournament.
Despite the encouraging defeat, Terran leaders everywhere urged players to not get complacent.
"We may have lost and thus won the battle, but this is just the beginning," said Terran grand mechanical wizard and aspiring professional player David "Avilo" Blowe. "Begun, the patch war, has."