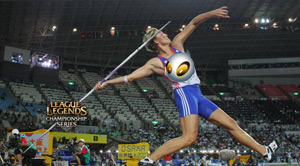 Dignitas Reclaims Title of Top NA Thrower
— February 15, 2014
After its recent match against XDG, Team Dignitas finally reclaimed the title of NA's Best Thrower. Sources say the veteran North American team was elated to have broken its troublesome six-game win streak.
The rematch between Dignitas and XDG decisively determined which NA team was the best at throwing. The first game had proven disastrous for Team Dignitas, as underdog XDG managed to out-throw them. Although Dignitas handily secured losing the early game, a lapse in late game shotcalling allowed XDG to pull out the loss at Baron.
Prior to the game against XDG, Dignitas received disheartening blows to its self-confidence when it failed to sandbag hard enough to lose against Cloud 9.
"We tried our best to ensure that we were behind in gold, but we just couldn't stop killing [Cloud 9]," replied William "Scarra" Li in a post match interview. "If we can't even blow a lead against Cloud 9, how are we supposed to throw against the other NA teams?"
Fans were also disappointed in Dignitas's winning streak, criticizing the team for losing touch with its roots. One fan, Sober_scaRRa, wrote, "If I wanted to root for a team that could finish games, secure Barons, and maybe take a point off someone at Worlds, I wouldn't be watching NA LCS. I guess I'll have to root for EG or Coast now."
Luckily, Week 4 proved fortuitous for the throw-slumping team, its inventive "Give Curse Gragas" strategy finally ending its six-game win streak. In the next match against XDG, Dignitas was able to continue the momentum and remind supporters of its "Digni-toss" legacy. Although XDG attempted to cling to its fresh title by picking Riven for Zachary "mandatorycloud" Allan Hoschar, Dignitas was able to turn the tables with clutch back-to-back Baron punts.
"I'm glad we started losing again," said Michael "Imaqtpie" Santana in a post-game interview. "I mean, can you imagine what would happen if people started taking me and my team seriously?"