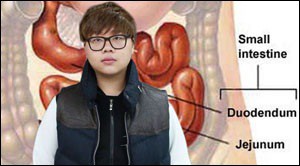 Amazing! This LoL Player Made It to LPL Quarterfinals without a Small Intestine
— April 16, 2015
Crushing all five members of Team WE is no easy feat, but that's exactly what League of Legends player PawN did in the LPL Spring 2015 Quarterfinals. But there's a twist: PawN is a disabled gamer; he has enteritis, or inflammation of the small intestine.
PawN's real name is Heo Won-seok. He was born in South Korea, but moved to China to pursue his dream of swimming in a vault full of gold. He was scheduled to play in the LPL Quarterfinals with his team, EDward Gaming, but at the last minute, he fell sick with enteritis. The team had to replace him with former midlaner Ceng "U" Long, but the substitute's lack of practice, lack of team strategies, and lack of Korean DNA really hurt EDG's performance against WE.
"Seeing my team go 2:2 against WE almost brought tears to my eyes," PawN told reporters. "The only thing stopping me from crying was my life-threatening dehydration."
Putting his teammates' success before his personal health, PawN bravely offered to play for EDG despite his condition. Instalocking Kassadin, he destroyed WE and led EDG to semifinals.
"Riot crippled Kassadin's mobility, but that didn't stop me," said PawN. "My excruciating abdominal pain crippled my mobility, and that didn't stop me either."
Incredible!
Doctors estimate that it will take two months for PawN to recover. Analysts say that it will take a similar amount of time for WE to recover.
More from
• 62 Players CLG Might Be Looking At
• Piglet Downloads One Weird Driver to Win Playoff Matches!
• 500 Pings People Playing on East Coast Will Understand
• 23 Ways Riot Employees Have Sex
• Yellowstar Lost Weight With These Five Simple Steps!
• You Won't BELIEVE Whose Mother This Player Fucked!
• 17 Lifehacks That Won't Reformat Your Hard Drive
• What Your KDA Says About Your Political Stance, Sexual Orientation, Nationality, Future Earnings, Celebrity Crush, Favorite Disney Princess, and Your Relationship With That One Estranged Aunt In Kentucky
• Are You a Riot Superfan? Take This Quiz!
If you like our content, please consider supporting us through the ESEX LoL Patreon.