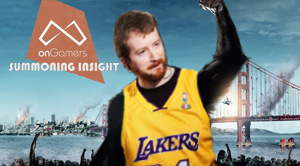 Thorin apologizes for "player looking like ape"
— June 11, 2014
OnGamers' Duncan "Thorin" Shields has
apologized today
for describing Team SoloMid's Andy "Reginald" Dinh as looking like an ape, stating that it was "unprofessional to make fun of an individual on the basis of something they have no control over."
"I'm sorry I made the statement," said Shields. "I'm also sorry he looks like an ape, it must be terrible for him. I'm sorry I can't change what he looks like."
Thorin added, "TLDR, still ape."
Today's apology was the highly anticipated sequel to Thorin's first apology in March, which was made through Twitter after being fired from IEM Katowice for making comments about Poland. The TSM apology provided by Shields clocked in at exactly 500 words, a 2,174% increase when compared to his "I'm sorry that people were upset" Poland apology tweet.
"Duncan's TSM apology was way better than the Poland one," said user ApologyTribunal. "Just like the remake of Planet of the Apes is way better than the original, where the apes barely look like LoL players at all."
OnGamers has also implemented a new "Shield-for-Shields" policy for future interviews, where their video editors will edit out the faces of all guests so Thorin will not be tempted to compare them to subhuman primates.
"I will work on and improve my behavior toward guests and general professionalism," said Shields in a monotone voice while reading from an index card. "But Reginald really should work on not looking like an ape so much."
Thorin is currently signed on to OnGamers for seven to eight apologies through 2015, and the League of Legends community eagerly awaits the third installment of Thorin's apology trilogy this summer.