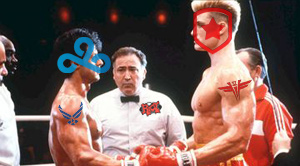 Russian "Spetsnaz" Sponsors Gambit Gaming
— June 2, 2014
Gambit Gaming has announced that it will be sponsored by various units of the Russian special forces, commonly known as "Spetsnaz." Sources say the move appears to be a response to Cloud 9's
recent sponsorship
by the US Air Force Reserve.
"We are proud to support Gambit Gaming, who has bravely represented Russia in professional League of Legends for many years," stated Colonel and Pudge midlaner Vadim Pankov, commander of the 45th Guards Spetsnaz Regiment under the VDV. "Gambit's playstyle, where they secure objectives despite sustaining heavy casualties, is reminiscent of traditional Russian military strategy."
This may not be the Spetsnaz's first encounter with Gambit Gaming. In February, Spetsnaz forces allegedly assisted Gambit's annexation of Ukrainian gaming organization Natus Vincere.
In response, the United States Air Force Reserve Command (AFRC) emphasized its partnership with Cloud 9 and League of Legends in general. Chief of the Air Force Reserve Command Lieutenant General Thomas F. Paine announced, "We're very excited to be sponsoring League of Legends, as now we can reach out to impressionable teenagers who are already desensitized to violence."
"League of Legends players have a lot of skills that the AFRC is interested in," added Lt Gen Paine. "We need players who can maintain vision control from a U-2, stealthily burst targets from a B-2, or last-hit insurgents from an A-10."
"We want new pilots of our Predator drones," Lt Gen Paine concluded. "We need people who can land high-damage, long-ranged skillshot missiles from miles away, people who feel no remorse for slaughtering people while putting themselves in relatively little danger. We need Nidalee players."
The US AFRC and Spetsnaz sponsorships highlight the slowly-escalating tensions between the two superpowers. Currently, the United States boasts a higher KDA, while Russia maintains a better winrate.
"An iron Cataclysm has descended across the Continent," warned Corki aviator and open lesbian Zachary "C9 StealthBomber" Scuderi. "Fortunately, it's still bugged as hell. Impassable terrain, my ass."