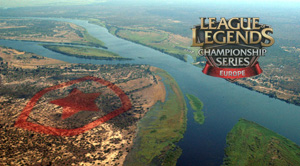 Riot Celebrates Screwing Over Gambit Yet Again
— June 25, 2014
In Los Angeles and Cologne, the eSports Divisions of Riot Games celebrated yet another successful attempt to ruin Gambit Gaming's standings in the EU LCS. Riot employees drank vodka and ate Pringles while watching Gambit send four subs and novice players to Week 5 of the LCS.
"I was discussing with my team about how to screw over Gambit yet again," said eSports Manager Nick "RiotNickAllen" Allen. "To be honest, I didn't think we could top the arbitrariness and unfairness of the SK vs. Gambit Remake."
Allen was pleasantly surprised by Head of EU eSports and the Riot Germany office Jason "Riotjasonoliver" Yeh, who proposed to host the LCS in the one country that Gambit's Schengen visas could not access without notifying Gambit in an appropriate timeframe.
"I was pretty worried when the subs — some random solo queue players — started doing well against LCS pros," admitted Yeh when asked about problems in his plan. "Luckily for me, the subs weren't used to the soul-sucking monotony that is the EU LCS, and fell asleep in game."
"The hardest part of the plan was the apology," Yeh added. "I had to go through several rounds of editing and rewriting to ensure that my statement had no real content whatsoever."
Riot has a history of making decisions that negatively impact Gambit, which includes rescheduling a rematch when a negligible bug occurred in an LCS game, and refusing to reschedule a rematch when Gambit's players required new visas.
In what has now become a company tradition, Riot employees regularly compete among one another to craft the next greatest plot against Gambit. "After we deprived them of sleep, stable homes, and families, Gambit were nevertheless still able compete as finalists in the Season 3 World Championship," remarked Nick Allen. "We need to take some drastic measures to drop them from Top 8 to Team 8."
Later that night, in an exciting announcement on its homepage, Riot revealed that Week 7 of the EU LCS would be taking place at Kazungula, a small border town in the Southern Province of Zambia, at the intersection of Namibia, Zambia, Zimbabwe, and Botswana. The tournament will be held on a large barge, slowly cycling through each country in 15-minute intervals, requiring passport checks each time.
"At Riot, we love to hold LCS games in international locations as novelty entertainment," the announcement read. "For example, in our company's longest-running joke, we've continued to hold LCS matches in North America."