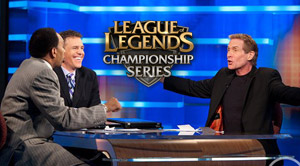 ESEX Analysis: LCS Spring Split Week 10 and OGN Spring Group Stages Week 3
— April 1, 2014
Europe
---
Riot Holds Rematch of SK vs. Gambit Due to Bug

In an unprecedented move last weekend, Riot decided to replay a match between SK and Gambit that initially saw Gambit emerge victorious. The decision was the result of a bug during the game that allowed Gambit toplaner Evgeny "Darien" Mazaev to heal as Aatrox on every second attack, rather than on every third attack, prompting SK toplaner Simon "fredy122" Payne to complain to referees about the unfair advantage. At the time, Payne was not granted the option of a replay. However, Riot considered this action a violation of its rulebook, and decided to hold a rematch long after the original match had ended.
Unfortunately, the decision received harsh criticism from the League of Legends community, who believed that Gambit had earned their victory fairly, and that the bug had inconsequential effect on the results of the match. Gambit especially opposed the rematch, as they had received too short a notice to prepare effectively for the replay. Gambit believed that a major factor in their original victory was their hard work at winning the drafting phase, work that would be completely undone in the rematch.
Gambit ended up losing the rematch, intensifying community backlash. Many believed that arbitrary, imprudent decisions had cheated Gambit out of a hard-earned victory. Others were worried about the frightening precedents set by the rematch, believing that teams in the future will abuse minor bugs to rematch games at will.
---
Araneae Retires, Replaced by Kottenx

In a lengthy Facebook post, Millenium jungler Alvar "Araneae" Martin Aleñar revealed to the public that he would be stepping down to focus on his studies. Referred to as "The Spanish InSec," Aleñar felt that he was outclassed by the new younger generation of professional players.
Araneae was replaced by Swedish progamer, Markus "Kottenx" Tingvall. Kottenx already has history with Araneae, having both replaced him after Araneae left the short lived Na`Vi League of Legends team and been replaced by him when Araneae joined Team Alternate as a starter. With the departure of Araneae, Kottenx is once again the starting jungler for team formerly known as Eloblade.
Despite its new, younger Jungler, Millenium continued its losing streak in Week 10.
---
Other Headlines
Alliance Rises to the Top of EU LCS Standings
North America
---
Scarra Retires to Coaching, Replaced by Goldenglue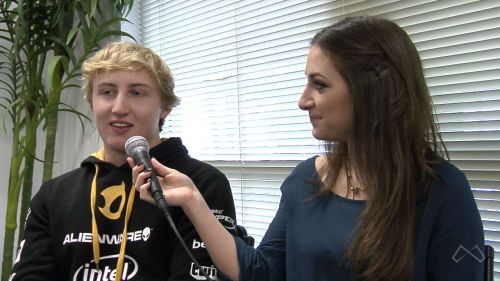 Photo credit: OnGamers.com
On March 25th, Team Dignitas announced on its website that beloved midlaner William "Scarra" Li would be stepping down from his position to work as a coach for Dignitas. The League community expressed support for the veteran midlaner, acknowledging that his skills were not quite on par with those of other NA midlaners, and hoped that retirement would prove more relaxing and enjoyable for the veteran gamer. However, as Li was well liked by the community, not many celebrated this change.Greyson 'Goldenglue' Gilmer, his replacement, has performed well in his first two games.
---
CLG Defeats TSM
Counter Logic Gaming's victory over their old rival Team Solomid marks an important historical milestone for both CLG and League of Legends in general. Especially highlighted in the game were Dexter's clutch Lee Sin kicks, Doublelift's solid Lucian, and Wildturtle's solo queue mentality.The LoL community praised this game as representative of the excellence of the top three NA teams: TSM, Cloud 9, and CLG. "The top three NA teams make the rest of NA look like a fucking joke," claimed Reddit user UranusIsBestAnus.
---
Other Headlines
Curse Loses Fourth Place Standing to Dignitas
XDG and Coast Guaranteed Relegations
---
Korea
---
SKT T1 K Loses to KT Rolster Arrows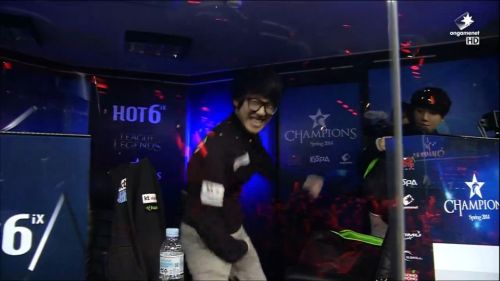 Photo credit: LoLesports.com
Due to mediocre picks and plays on SKT T1 K's behalf, and just the opposite on KT Arrows', SK Telecom T1 K lost its first series in six months, shocking the entire League community. Arrows jungler Lee "KaKAO" Byung-kwon, as well as the rest of KT Arrows, were elated to have stomped what most LoL fans had considered the best team in the world, especially since they had been mocked earlier for losing to SKT T1 S. Meanwhile, the situation looks grim for SKT T1 K, as SKT S would have to lose 0–2 to Prime Optimus for SKT K to have a chance and entering the Champions Spring Playoffs.
Some fans claim SKT K deserve this humiliation, as they are suspected of sandbagging a game against their sister team in order to more easily facilitate both SKT teams' advancing out of the group; had SKT K defeated S 2–0, there would most likely have been a 3 way tie for first in the group, giving K another chance against KT A.
---
Other Headlines
OGN Spring 2014 All-Stars Matches Most Entertaining All-Stars Format Yet