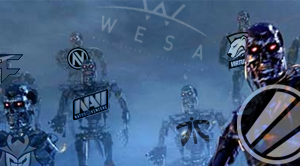 WESA Reassures Esports World with Plans to Definitely Not Take over World
— May 13, 2016
The Electronic Sports League has responded to criticism of its World Esports Association's overbearing standards by assuring journalists that they had absolutely no intention of taking over the world through any kind of nebulous esports conspiracy.
"Every sport grows in a very anarchic way," said ESL CEO Ralf Reichart in an interview. "If ESL must thrust the cold, unyielding steel of order through the frail flesh of chaos, it will be done, by all means necessary."
Players will have their own governing voice on the "fully-operational Player Council." The civic-minded electronic athletes will be able to write essays on the importance of representative government and vote on their favorite energy drink.
"The cyborgs you see here behind me are our newly-initiated cyber sportsmen, elected by one another," Reichart continued. "They've been instructed to be professional, Adderall-free, non-gambling, non-cursing, and non-intimate. They're even self-represented. Did we mention they elected one another?"
"For years, millions of voices in the esports community have demanded legitimacy as a 'real' sport," explained ESL Hall of Fame Staff and known terrible human being, Ken "HotBid" Chen. "It took me a while to understand, but I finally realized what esports was missing this whole time: One body with an iron fist. Or many young, disposable bodies with iron fingers."
"This is just a sign that esports is growing up. And like any growing body, many individual parts will fall out and die before being replaced."
Some team owners involved in the deal were present at the conference as well, presences looming over the crowd as photographers' flash glimmered off their new metal enhancements.
"We appreciate the effort to bring law and order, as well as the completely unrelated $150,000 gift paid to us by this generous organization," said Fnatic CEO Wouter Sleijffers. "The teams represented here today are known to be run by more established civil organizations. Those that dissent from such a model should reconsider their modes of power for the sake of their own futures — and their loved ones."
Bursts of gunfire could be heard outside of the walls of the meeting hall. Although unable to determine the source or the target, journalists did see the bodies of player-owned team Astralis hit the bay-style windows of the newly-constructed ESL super-mansion.
"Now is not the time for fear," Ninjas In Pyjamas Owner Hicham Chahine gently informed the crowd, as his visual implants scanned the trembling journalists. "That comes later."