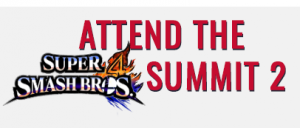 Smash Summit 2 Adds Smash 4
— March 31, 2016
Beyond the Summit has decided to dedicate two of the four Smash Summit 2 play days exclusively to Nintendo's newest Smash Brothers title, Smash 4. The decision was spurred on by the success of Smash 4 professional player Eric "ESAM" Lew in the initial rounds of compendium voting.
Yesterday, BTS created a new "Add Smash 4" reward to their Smash Summit 2 compendium at a seemingly unreachable $50,000 price tag. However, the Smash 4 community was able to pull through, achieving the goal in mere hours mostly due to the help of a mysterious anonymous $48,000 donor called "Basahiro Bakurai."
"I am a normal totally grassroots Smash 4 fan," said Mr. Bakurai, who will be on site to flip a coin to decide which game the grand finals will feature. "I hope that the players at the Summit 2 will play the many balanced and reasonably priced DLC characters available for purchase in Smash 4."
Melee fans should not be disappointed though, because nearly 50% of the Summit 2 event will still be centered around Melee, and the Melee players will be allowed to switch characters between games. On the final day, Winner's Quarters set 1 and 3, Winner's Semis set 2, Winner's Final games 2 and 4, Loser's Quarters set 2 and 4, Loser's Semis set 1, and Loser's final will be Smash 4.
"We are in a very unique position to help fix the animosity and bridge the gap between the Smash 4 and Melee communities," said Summit 2 project manager and pitchfork.com bookmarker Bryan "Kpoptosis" Herren. "We feel Melee players dislike Smash 4 gameplay because they simply misunderstand this beautiful, slow, amazing, and lucrative new game."
He added, "we think Melee fans will be thrilled about this format change as it gives them something new and dynamic to watch."
When asked if the extra profits from Smash 4 compendium purchases influenced his decision, Herren replied by playing a video on his phone of Bizzaroflame yelling "EASY MONEY" at full volume.
If you liked this article, support our anti-not-getting-paid campaign atESEX Patreon.