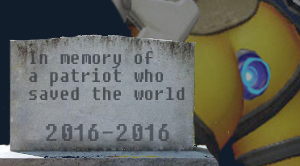 Blizzard Staff Held Hostage over Overwatch Pose
— March 30, 2016
Two factions of armed activists raided Blizzard headquarters yesterday, demanding that Blizzard answer for their unspeakable crimes against humanity. The attack comes in light of the removal of a controversial pose for Tracer, a Cockney space pixie in Blizzard's upcoming game, Overwatch.
"We want accurate representation of female characters!" screamed a musket-wielding radical from one faction, Shielding Juvenile Women. "We won't rest until Tracer is just as well-designed as her male counterparts, including Gruff Cowboy, Gruff Soldier, Samurai, Samurai's rival brother Ninja, and an Angry Dwarf With A Hammer."
The entire Overwatch team has been taken hostage, and negotiations are expected to begin once either faction has a comprehensible viewpoint. Unrelated to the main attack, the Heroes of the Storm division was also violently burglarized by attackers in crimson lettermans.
"Why won't Blizzard think of the children?" exclaimed Battle.net user Fipps. "I want my young daughter to be able to play this game, in which a morbidly-obese gangster in a pig mask can grab you with a meat hook and riddle your body with rusty scrap metal."
"I don't know why people are very angry about Tracer's butt," added Fipps's daughter. "Everybody has a butt, silly."
Another group, calling themselves the Creative Freedom Fighters, demanded that the pose be reinstated.
"We're tired of outside interests invading our games and influencing our developers," declared a reactionary activist from this group. "In the name of creative freedom, we demand that Blizzard free themselves from biases by instating our strict, fine-tuned vision of their game and characters."
At gunpoint, Blizzard has created a new version of Tracer that they believe will please everyone, while staying true to their understanding of British culture. The character has now been replaced with a grey cube with a bowler hat, speaking only lines from Oliver Twist.
The original controversial pose featured Lena "Tracer" Oxton facing the wrong direction and tilting her head a little.
If you liked this article, support our anti-not-getting-paid campaign atESEX Patreon.