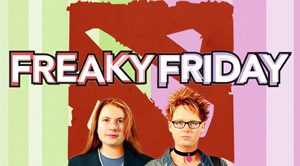 Puppey, PPD Trade Places
— June 15, 2016
Spokesmen for professional Dota 2 teams Evil Geniuses and Team Secret have this week confirmed that the teams' Manila Major roster shuffle was sparked when captains, Clement "Puppey" Ivanov and Peter "PPD" Dager, unaccountably switched bodies.
While analysts have thus far failed to describe the mechanism by which the switch took place, researchers are frantically investigating the events leading up to Tuesday, June 7th, or the "Thrilling Throwday" that preceded June 10th's "Freaky Friday."
Some have ascribed the body-swap to a breakdown in the fundamental physics that governing the Dota 2 scene, suggesting that time itself has begun to accelerate. Adherents to the theory point to the recent surge in compendium releases.
"When I was a boy, we'd have one compendium a year, and you were happy to get it," wrote respected /r/Dota2 scientist /u/LichardDivineman. "Before long it was one every three months. But last month? Two compendiums at once…"
The theory has gained ground with the unprecedented release of a balance patch within 24 hours of the Manila Major's finals. In this new and terrifying world, Dota researchers and doomsayers are already predicting the game's collapse into a state of total entropic chaos.
"What we're seeing now is the Dota scene itself accelerating dramatically, as though entering a kind of hyperbolic time chamber," commented Dota physicist /u/Karroch_HawKing. "Normally, extreme temporal pressures like these would be alleviated by an overflow mechanism that naturally slows events to a near standstill, serving as a kind of 'Time Valve.' However, if current trend continues, patch 6.89 will release during the first matches of the TI6 qualifiers."
"Before long, teams will be forced to shuffle players during the drafting phase, as captains try desperately to restructure their teams to suit a meta that is simultaneously stagnant and constantly shifting."
Other flagship multiplayer games have already felt the effects of this temporal distortion. While Overwatch is currently undergoing freakishly accelerated growth, League of Legends has found itself slowly travelling backwards in time, in terms of both game design decisions and player count.
The tick-tock twisty time represents a threat not only to the competitive scene, but to the very fabric of Dota itself. While the temporal erasure of Kurtis "Aui_2000" Ling has gone largely unnoticed, the community is increasingly concerned that the same could happen to more popular players, or even threaten the very Universe itself.