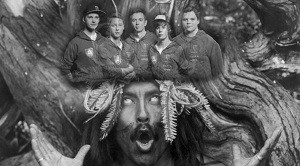 Alliance Granted Eternal Life by Genie
— January 14, 2016
Players on the Dota 2 team Alliance marked their third brush with death in as many months when they survived a deadly plane crash on the way to the Starladder LAN in Belarus. Unable to write off surviving freak accidents any longer, the former TI champions admitted that they gained immortality from powerful wills of a mystical Mesopotamian being.
"I found the Majestic Djinn Renji some time ago, after I rubbed Loda's head three times while he held the Aegis," explained arboreal soothsayer Henrik 'AdmiralBulldog' Ahnberg. "At first I wanted to wish for a real life Hand of Midas, but s4 convinced me that team-wide immortality would be a more fun choice."
"The genie warned that immortality would gradually erode our souls, leaving us empty, inhuman husks," said support Joakim "Akke" Akterhall, "but since TI3, we've been walking shells of our former selves anyways."
Indeed, their invulnerability proved helpful in times of bad fortune. At DreamHack Winter 2015, carry Jonathan "Loda" Berg survived a Rocco-Lampone-style hit by British intelligence agents. Later that month, at World Cyber Arena, midlaner Gustav "s4" Magnusson survived a bioterrorist attack in which the player mysteriously contracted the bubonic plague; the team shrugged off the incident, attributing all credit to their throw-proof Snuggie.
Most recently, after being denied entry to the StarLadder playoffs in Minsk due to severe weather, the team hijacked a small plane to fly through a blizzard to attend. After the plane crashed, the team managed to navigate 300 miles through the ex-Russian winter. Smashing through the steel tournament doors with their bare hands, Alliance arrived to a tense reception from the terrified Starladder staff.
"They don't feel pain … they don't fear death," commented a visibly shaken novice caster David 'LC' Gorman. "They don't even fear fucking up the last five minutes of their games."
Kelly "kellymilkies" Ong Xiao Wei, who was also granted the wish, has taken to Twitter to promote her now-immortal team and spread the word of their new powers, wringing her hands and cackling from a skeletal throne. "We will dominate every LAN with bloodied fists, regardless of whether or not they let us play. None will stop my boys, and the reign of the old gods will begin on the backs of the cursed!"
"I AM KELLY, QUEEN OF THE UNDEAD!" she added.
"Nowhere is safe," whispered LC as he watched Alliance chant in the distance. "Nowhere except the winners' bracket."