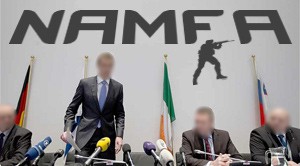 ex-iBUYPOWER Players Kicked from Match-Fixing Association
— January 28, 2015
The North American Match-Fixing Association, or NAMFA, has announced the removal of all individuals caught in the recent scandal involving ex-iBUYPOWER players.
"The first rule of match-fixing is do not get caught match-fixing," said one current NAMFA member who successfully remained anonymous. "The second rule is do not text your girlfriend about it."
The players will lose their "Throw Pro" gold status immediately and will no longer have access to NAMFA facilities and benefits, which included a lifetime supply of malfunctioning peripherals and an Olympic height diving board.
NAMFA also provided a security detail trained to keep Richard Lewis at a minimum distance of 10 yards away during DreamHack afterparties.
"This has been a really tough week for me," said Joshua "Steel" Nissan, who reportedly ate dinner alone while listening to MLG.tv-licensed sad violin music. "Unfortunately I will have no choice but to try my absolute hardest to win every CS:GO match from now on."
Nissan also revealed that he planned to stream an official apology to those affected by the scandal this week, but later added, "Sike."
Major League Gaming had announced a partnership with several of the former NAMFA match-fixers just hours before the Valve event ban was handed down, leading many to speculate just how the event organizer would respond.
"Following the success of the MLG ESPN X Games Aspen CS: GO Invitational where presumably no overt match fixing occurred, we are excited to partner with Team Torqued even though they were unable to attend the MLGESPNXGCSGOI," said one MLG public relations press robot. "Team Torqued is also very excited that they remain gainfully employed in any capacity."
If you like our content, please consider supporting us through our Patreon.