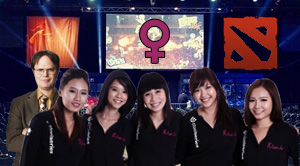 Female Dota 2 Teams Assigned Male Supervisors
— April 14, 2014
Last week's news of Southeast Asian
Call for the Beauties
all-female tournament has been met with heated debate from the overwhelmingly male Dota 2 community.
Despite the controversy, the organizers insist the tournament seeks to empower those who have experienced gender discrimination and is a valuable opportunity for all female Dota 2 players who are attractive.
"The huge attention on this tournament can be positive," said fugitive shadowbanee Matt "⇧ CyborgMatt" Bailey, referring to the 1,300 comment thread on Reddit. "Rarely do we see large groups of men misguidedly discuss women's issues so passionately."
In response to the critics, tournament organizers have announced that each female-only team will be assigned a male supervisor for the duration of the event. The first duty of the Paternal Male Supervisor, or PMS, would be to administer a gender test to ensure androgynous male players do not swoop in to steal the prize money.
"PMS agents will ask a screening question that is 100% successful in determining gender," said administrator NEGdota. "Would you date the average r/dota2 user?"
The supervisors will be in charge of female team care and maintenance, including calming down emotional players, protecting fragile egos from phallus envy, and generally providing rational assertiveness. The PMS agent will also act as an official shoulder to cry on during losses and give feedback on cosmetics, in game and out.
"Fans should resist the urge to immediately objectify these attractive female Dota 2 players." said tournament host AsianCyberGames. "Beautiful women, when chaperoned by men, can absolutely compete in Dota 2 as well as men can."