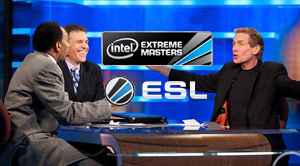 ESEX Analysis: League of Legends at IEM Katowice
— March 18, 2014
Average Korean Team Wins Tournament against the Best of NA and EU

Average Korean team KT Rolster Bullets placed first IEM Katowice last Sunday despite being unable to place first within their own team house. The Bullets defeated top EU teams Fnatic and Gambit Gaming and top NA team Cloud 9.

"I am disappointed that it took so long to beat the foreigners," said KT Bullets Midlaner Ryu "Ryu" Sang-ook. "I know that stronger teams like SKT T1 would have won the tournament in one day, or even before the tournament started."

At the time of writing, NA and EU fans were curled in a catatonic state, softly chanting, "We're relevant."

---
IGnitas Lives Up to Reputation, Throws at Baron

"Invictus tomorrow big?" asked Michal 'Carmac' Blicharz, Managing Director of Pro Gaming at ESL.

Ignitas Toplaner Liu "PDD" Mou ignored ESEX reporters and refused to shake their hands.

---
Thousands Protest Election of "Illegitimate" MVP

Thousands of League of Legends fans took to the streets this weekend to protest an illegitimate election. Gambit ADC Evgeny "Genja" Andryushin was chosen as MVP of IEM Katowice, an act that received criticism because the best teams of the competition had yet to play against each other.

"I offer my deepest apologies to Exalted Lord Carmac," confessed a prostrate ESL employee, who was discovered to be playing LoL on the job and thus released the MVP results before the tournament's end. "I hope he and Executioner ReDeYe will have mercy upon my decrepit self."

Unyielding to pressure, Genja has remained tenacious in the face of heavy crowd opposition, as he had built a Zephyr.

---
More Headlines