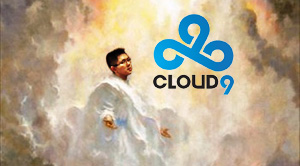 Speed Players Impressed by Cloud 9 Management's Sanity
— February 10, 2014
Cloud 9's acquisition of the Dota 2 team Speed Gaming has led to some surprises from both parties. Sources say that the former Speed Gaming lineup is impressed by Cloud 9 management's professionalism and reasonableness in normal, everyday activities.
Kurtis "Aui_2000" Ling had a question about contract terms and spent nearly 45 minutes searching for a Reddit thread in which to argue with management before resorting to private communication.
"He just messaged me back privately on Skype," said Ling. "It felt like we were in the CIA."
Other ex-Speed players like WehSing "SingSing" Yuen were surprised to receive monthly salary payments on time and in the correct amounts.
"Easiest salary of my life," said Yuen, who quickly excused himself to masturbate.
Cloud 9 currently also has several League of Legends teams and a Smite team, including a very successful North American LCS squad.
"After establishing ourselves in LoL, it was natural to get into Dota 2 next," said Cloud 9 GM and Owner Jack Etienne.
"In fact, I visit r/dota2 all the time," said Etienne. "I prefer it over the League subreddit, which tends not to talk about League as much."
Cloud 9's sponsors include HyperX, Alienware, Logitech, and Crunchyroll, an American website and online community that focuses on East Asian media like anime and manga.
Jacky "EternaLEnVy" Mao, the team's apotheotic carry player and longtime Japanophile, expressed the opposite of wrath by tweeting "I'm Sponsored by Anime." "EE-Sama" has nearly tripled his cult followers since 2012, and looks to convert more as he literally ascends to the clouds.
Mao especially enjoyed browsing several reviews written by Crunchyroll users regarding the anime version of the Japanese romantic comendy manga series Nisekoi: False Love, but says he will probably stick to reading the manga only.