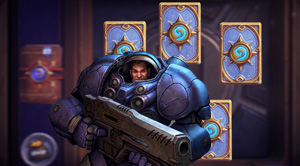 StarCraft Hearthstone Pack #1
— January 22, 2014
About Us
ESEX is a humor and entertainment website centered around the ESPORTS scene.
Want to write for ESEX? Tell us why, and include a few ideas in your message.
ESEX has ads because we like money. Please consider disabling adblock if you enjoy our content.
Popular Articles
— January 14, 2014

ESEX correspondent Danny Johnson, Age 9, reports on the NiP LCS controversy.

— January 30, 2014

ESEX and ESPORTS aren't just for adults, you can make it fun for children too! Check out some great puzzles for children ages 6-12.

— June 2, 2014

Russian special forces have reportedly sponsored professional League of Legends team Gambit Gaming.
Categories