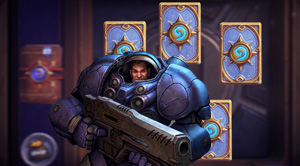 StarCraft Hearthstone Pack #1
— January 22, 2014
About Us
ESEX is a humor and entertainment website centered around the ESPORTS scene.
Want to write for ESEX? Tell us why, and include a few ideas in your message.
ESEX has ads because we like money. Please consider disabling adblock if you enjoy our content.
Popular Articles
— December 3, 2013

Here at ESEX we've done an exhaustive study and deep analysis of the social marketing juggernaut Demon's Twitter feed since The International 3 in August.

— February 20, 2014

MLG Anaheim will feature the world's first ever mass-team Pokémon tournament.

— December 18, 2013

With the recent addition of ranked matchmaking, NA based Elo creationists have issued a server-wide ban on playing ranked matches.
Categories