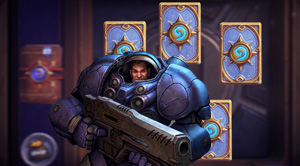 StarCraft Hearthstone Pack #1
— January 22, 2014
About Us
ESEX is a humor and entertainment website centered around the ESPORTS scene.
Want to write for ESEX? Tell us why, and include a few ideas in your message.
ESEX has ads because we like money. Please consider disabling adblock if you enjoy our content.
Popular Articles
— December 5, 2013

In the wake of yesterday's uproar about Riot's ban on streaming other games, ESEX has obtained an exclusive look at the second page of the Riot Season 4 LCS contract.

— January 14, 2014

ESEX correspondent Danny Johnson, Age 9, reports on the NiP LCS controversy.

— January 7, 2014

Analysts say girl at center of "whiny bitch" controversy may not be whiny or a bitch after all.
Categories