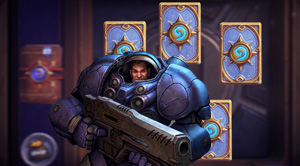 StarCraft Hearthstone Pack #1
— January 22, 2014
About Us
ESEX is a humor and entertainment website centered around the ESPORTS scene.
Want to write for ESEX? Tell us why, and include a few ideas in your message.
ESEX has ads because we like money. Please consider disabling adblock if you enjoy our content.
Popular Articles
— December 9, 2013

HuK and Thooorin with a very important Twitter-fight over the classification of tournaments in the SC2 scene. Height jokes, c-u-next-tuesday, Grack, and broken promises all make an appearance.

— February 24, 2014

Team Liquid's two new players Mana and Bunny are looking forward to retiring from StarCraft 2.

— March 18, 2014

Valve announces that the "Free to Play" documentary remake will star Sigma player FATA.
Categories