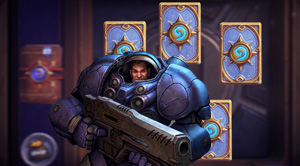 StarCraft Hearthstone Pack #1
— January 22, 2014
About Us
ESEX is a humor and entertainment website centered around the ESPORTS scene.
Want to write for ESEX? Tell us why, and include a few ideas in your message.
ESEX has ads because we like money. Please consider disabling adblock if you enjoy our content.
Popular Articles
— February 11, 2014

Amid reports of an arms race in the Nexon Sponsorship League, North Korea has announced a state-sponsored Dota 2 team.

— April 1, 2014

Juan Carlos "MajOr" Tena Lopez has accused Benjamin "DeMusliM" Baker of threatening him with violence.

— March 10, 2014

European tournament organizer ESL has announced the annexation of the North American World Championship Series.
Categories