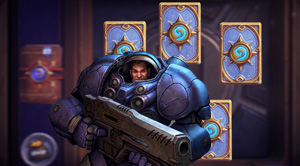 StarCraft Hearthstone Pack #1
— January 22, 2014
About Us
ESEX is a humor and entertainment website centered around the ESPORTS scene.
Want to write for ESEX? Tell us why, and include a few ideas in your message.
ESEX has ads because we like money. Please consider disabling adblock if you enjoy our content.
Popular Articles
— February 28, 2014

Protoss players across Aiur have pledged to send humanitarian aid to those affected by the WCS NA Group D disaster.

— December 17, 2013

The first edition of our ESEX Crossword is out. Be the first to complete it!

— April 30, 2014

The StarCraft Supreme Court came to a decision today regarding the controversial TvP build order case.
Categories