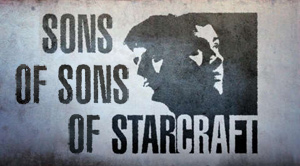 Sons of Sons of StarCraft Delayed
— December 11, 2013


SEOUL—The Kickstarter-funded documentary "Sons of Sons of Starcraft" has received widespread criticism after its stars failed to be born on time.
"Sons of Sons of Starcraft" aimed to follow the early years of the children of Dan "Artosis" Stemkoski and Nick "Tasteless" Plott, two popular guys who sometimes cast StarCraft. While Stemkoski has held up his end of the bargain, siring a daughter last year, it seems that Plott has remained stubbornly child-free. When asked why he has not yet delivered a child, Plott replied, "What do you think about this childless build, Artosis?"
"Fans might think it takes 9 months to make a baby," SoSoS director Jeff Alejos said, "but often post-production on the child can take as long as 3 years before the kid is ready."
StarCraft fans across the internet grew frustrated as the film's release date was pushed back further. "Where are the status updates?" Reddit user BabyGotGrack said. "Is it really that hard to Tweet or blog about the girls Tasteless is trying to impregnate?"
Another fan added, "I contributed $500 to the Kickstarter for the reward, and I'm worried I won't ever receive my signed DVD of Nick conceiving his child."
In spite of the criticism, the documentary was still tracking well until it was revealed that two months ago Tasteless actually had a daughter, Patricia "Passion" Plott, but the child mysteriously went missing sometime between the Hot6ix GSL Seasons 1 and 2.
As the film missed more deadlines, fans had started to give up hope when Kim Rom, VP of eSports at CBSI and the financial savior of the original "Sons of StarCraft" substituted his own 2-year-old child, www.onGamers.com Rom, into the production as a replacement. "This film, like the last one, is Jeff's baby," Rom added. "And now it's mine, too."